I'm very excited to announce the weekly recurring post at Life and the Little Details – wait for it…
…FUN DETAIL FRIDAYS! You're excited aren't you?!? I know I am!  Every Friday, I'll be posting a helpful tip or a tiny detail that hopefully inspires you to either try it out, or reminds you to focus on a small detail in your life.  It will be a mixture of mommy stuff, home life, and party details that will hopefully make a small part of your life a little better.
Even though I'm a lover of details, I sometimes have a hard time noticing details when I'm really busy or when my mind is filled with other things.  I hope that this recurring post forces us to keep looking at all the little details.
Plus, isn't Friday just the perfect day?!?!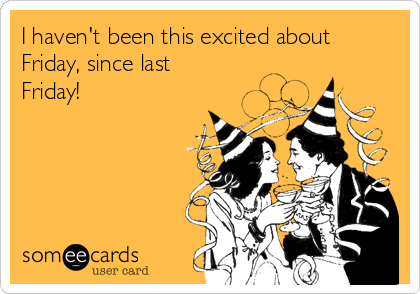 Ecard found at http://www.someecards.com/
 SO…For this Fun Detail Friday, I'm sharing a party detail that I learned from my mother-in-law.  It's a real time saver on party day.
FUN DETAIL – Label your party dishes the night before the party.  Think about every food you are going to be serving, and label the dish with either a menu card, or even just a sticky note.  When it's time to set out all the food, you're already ready!
Want to take it one step further? You can even set out the serving utensils, too. It's just a little detail, but it's a good one!
Ok, so here's the best part! Every Friday, after I post my fun detail, share a detail you're loving (related or not)!  You can comment below or on my Facebook page or on Twitter @lifelittledeets – use the hashtag #fundetailfriday –  Happy Fun Detail Friday!
Copyright secured by Digiprove © 2015
Jennifer is an elementary teacher with a B.A. in Psychology, a mother of two, and a detail enthusiast!Her love for the details of her family, her home, and special events has led her to becoming the founder of the blog lifeandthelittledetails.com
Latest posts by thelittledetails (see all)